Pop Open A Good Book!
Come in and register for the winter reading program. Now through the 15th of March we are encouraging you to read - any book, from anywhere, in any format. Not that we'll be testing you or anything. We just want to see how many books we, as a community, can read in the next few months. And just to make it interesting... we all will be putting up a piece of popcorn on the bulletin board as we finish each book. So come on in to sign up and keep coming in to place your popcorn on our bulletin board.
March Craft Group
Seeking Legos and Duplo Block Donations
The Frank Carlson Library is seeking Legos and Duplo Block donation. We will use Duplo Blocks for Pre-School Story time to help tell the story, build towers, and to match colors and size. With Lego Clubs being one of the fastest-growing library and school programs nationwide, Frank Carlson Library is planning on staring a Lego Club during Sumer Reading Program. We'll accept Alphabet blocks, too, in good condition to help children acquire early literacy skills. You may bring Legos, Duplo Blocks and Alphabet Blocks to Frank Carlson Library during regular business hours. for more information please contact the library at 243-2250 or e-mail at frankcarlsonreads@yahoo.com.
The Sunflower E-Library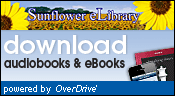 Announcing the arrival of Sunflower eLibrary!
The Frank Carlson Library has joined the Sunflower eLibrary group. This means you can check out ebooks, audio books, and even music or movies from the Sunflower site with your Frank Carlson Library Card. Come in for more information and be on the look out for our quick classes coming in the next few weeks.
Check it out at http://www.sunflowerelibrary.org!

Welcome
The Frank Carlson Library
Welcome to the web site for the Frank Carlson Library, serving Concordia, Cloud County, and North Central Kansas.
The Frank Carlson Library's mission is to meet the educational, informational, and recreational needs of the community and surrounding area.
You are invited to explore this web site, which has been designed to be a helpful and practical guide to the library services available through the Frank Carlson Library. Comments and suggestions about the web site or library services in general are always welcome so that we can better serve you.
Address and Services
We hope that you will visit the library at 702 Broadway in Concordia, Kansas, where you will find a comfortable, inviting environment with services for people of all ages and interests.
Toys, games, and learning opportunities for children
Comfortable, well-lighted reading area for adults
Extensive genealogy and local history collection
Thousands of videos, DVDs, audiobooks, and more!
The Frank Carlson Room, celebrating the life of Concordia's most illustrious citizen
The Frank Carlson Library is a member of the Concordia Area Chamber of Commerce, a Charter Affiliate of the Kansas Center for the Book, a member of the the Central Kansas Library System, and receives hundreds of items for adults and kids from the CKLS Rotating Book Van six times each year.
Facebook
The Frank Carlson Library is on Facebook! Look for us at http://www.facebook.comto become a fan.